Holmes County Veterans Services assists all former and present members of the Armed Forces and their dependents in preparing claims for compensation, pension, and other benefits and privileges to which they are entitled under federal and state laws and county regulations.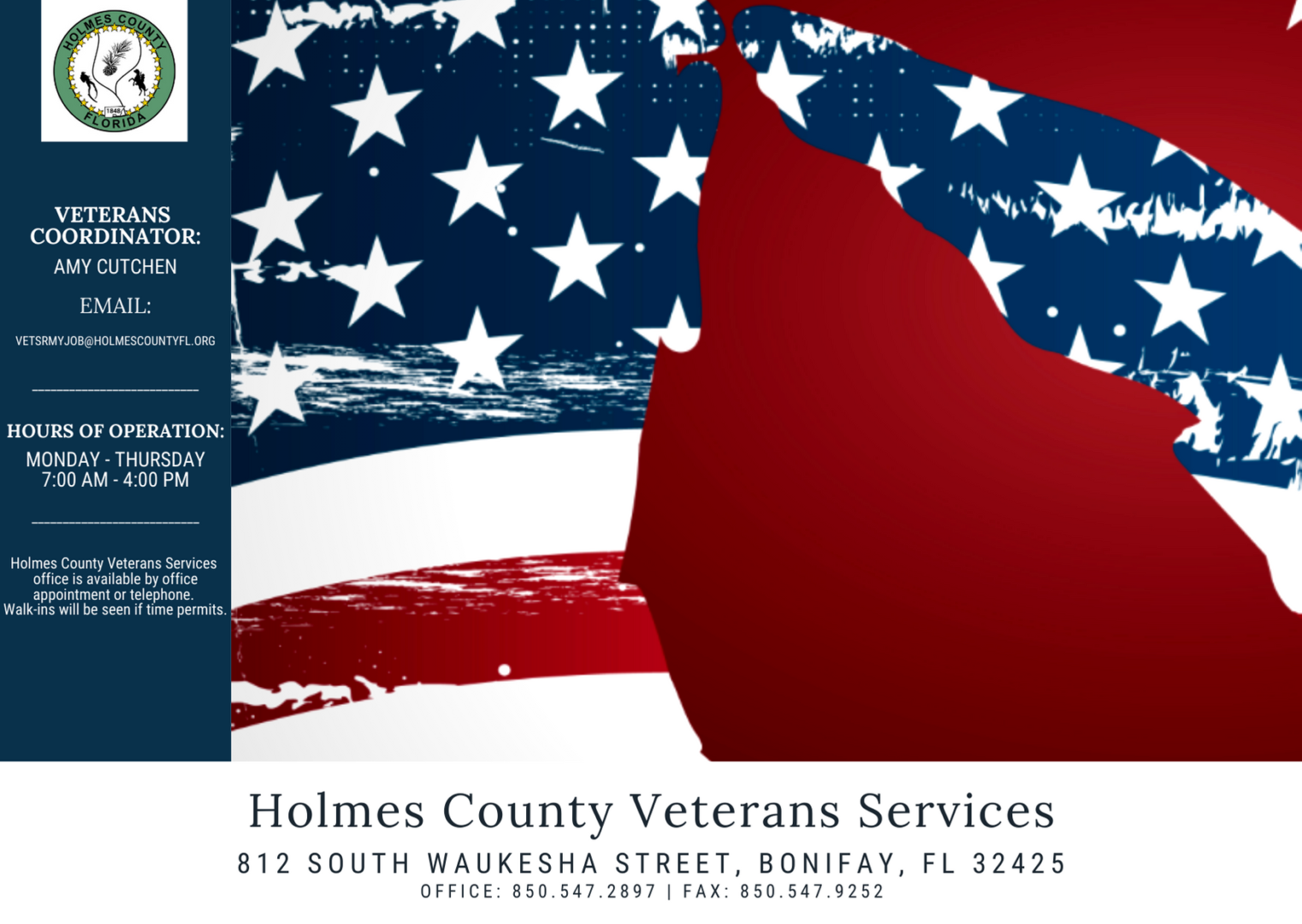 ___________________________________________________________
In addition, you may also call the US Department of Veterans Affairs toll-free at 800-827-1000.
You can email for general information, but PLEASE DO NOT EMAIL PERSONAL INFORMATION including your Social Security Number!
Note: Florida has a very broad public records law. Most written communications to or from state/county officials regarding state/county business are public records available to the public and media upon request. 
Under Florida law, email addresses are public records. If you do not want your email address released in response to a public-records request, do not send electronic mail to this entity. Instead, contact this office by phone or in writing. 
Thank you for your patience and assistance.
___________________________________________________________
The Veterans Services Office can assist you with the following issues:
Appeals 

Agent Orange

Burial benefits

Camp Lejeune contaminated water

Dependents' Education Assistance

Dependency and Indemnity Compensation (DIC)

Disability Compensation (service related)

Disability Pension (non-service related)

Discharge upgrades

Education Benefits Eligibility 

Home loan eligibility 

Medical enrollment

Military Sexual Trauma

Overpayments

Veterans with PTSD
___________________________________________________________
FREQUENTLY ASKED QUESTIONS: 
Q: I just want a veterans ID card; how can I get one?
Q: What should I expect/bring to my appointment?
Holmes County Veterans' Service Officer is certified and accredited by the Florida Department of Veterans Affairs, and is also a veteran.
Expect to spend about an hour in a private office setting. You will be interviewed to determine what benefits you may be eligible for.  If it is possible to take care of your needs by filing a claim or submitting forms that day we will do so. If further development is needed, you will be given "homework" and asked to come back.
Please bring the veteran's DD214 (Certificate of Release of Discharge from Active Duty). If you do not have a DD214, we can assist you in obtaining one.  
If you have questions, it may be helpful for you to write them down and bring them to your appointment.
Q: Am I eligible for any benefits?
You might be surprised! We encounter many veterans and surviving spouses of veterans who have no idea that they are eligible for monthly compensation from the VA.  Whether you were on active duty, the National Guard or Reserves, the best way to find out is to make an appointment with the Service Officer. 
You can also find general information on the US Department of Veterans Affairs website:
Q: How do I check the status of my claim?
Call the US Department of Veterans Affairs at 800-827-1000 -or-Call the Service Officer, if no answer, leave a message.  The Service Officer will make every effort to return your call by the end of the business day.  ***Reminder:  The office is manned by one person, and some days are busier than others, please have patience.  
Q: Can I call and talk to my Service Officer? I just have a quick question…
Due to the personal and confidential nature of VA claims, information given over the phone is limited, and all the information provided to the Veterans Services Division is protected in accordance with the Privacy Act of 1974, 4 USC 552a, 38 USC 7332, and the Health Insurance Portability and Accountability Act (HIPAA), implemented by 45 Code of Federal of Regulations Parts 160 and 164. Additionally, claimants' files are exempt from disclosure under Federal Law and are kept confidential and discussed only with the claimant or designated representative, as indicated in the claimant's file. 
During business hours the Service Officer is assisting clients and priority will be given to clients that are in the office over returning phone calls. 
Q: How can I get a copy of my DD214?
Q: I got mail from the VA that I don't understand, can you help me?
Absolutely! Please make an appointment.
Q: Where can I drop off paperwork for my Service Officer?
Documents are not to be dropped off unless the Service Officer has given prior authorization to do so.
___________________________________________________________
Other link of interests:
https://www.opm.gov/   (Civil Service)